Description
Turbosound iNSPIRE iP500 Column Line Array 600 Watt Portable PA System
iP500
600 Watt Powered Column Loudspeaker with a 8" Subwoofer, 6 Neodymium Drivers, Klark Teknik Spatial Sound Technology, Digital Mixer, Remote Control via iPhone/iPad and Bluetooth Audio Streaming
Modular column loudspeaker for portable PA applications and high quality music playback

Klark Teknik's revolutionary SST (Spatial Sound Technology) for creating 3D acoustic environments

Extremely wide sound dispersion provides consistent sound to the audience and performers

600 Watt power, multi-channel Klark Teknik Class-D technology

3 channel digital mixer with gain setting recall

Comprehensive remote control via Apple iPhone/iPad*

High quality Bluetooth* stereo audio streaming

DSP presets for application type and speaker positioning

Intuitive single rotary control user interface with LCD display for ease of navigation

8" high excursion low frequency driver for low distortion sub-bass response

6 x 2" neodymium drivers with edge wound aluminium voice coils for extended high frequency reproduction

Multiple height configurations for floor or elevated use

Precision-lock system eliminates speaker cables and stands

High impact and lightweight enclosure

Integrated protective perforated steel mesh grilles

Integral ergonomic carrying handle for ease of portability

Durable shoulder bag included for carrying column sections

10-Year Warranty Program*Designed and engineered in the U.K.
iNSPIRE iP500
Although we refer to it as a "column" loudspeaker, the INSPIRE iP500 delivers the powerful, high-quality sound and optimised dispersion inspired by our award-winning line array products – in a surprisingly lightweight and easy to use, all-in-one form factor. Thanks to an on-board 3-channel digital mixer and multichannel 600-Watt Class-D amplifier driving a custom-engineered 8" subwoofer and 6 x 2" neodymium drivers, the iP500 is ideally-suited for small to medium-sized performance venues, houses of worship, boardroom presentations, nightclubs, and much more.
Weighing in at a very modest 15 kg (33 lbs), the iP500 is easy to transport and features industry-leading KLARK TEKNIK Digital Sound Processing (DSP), Class-D amplifier and Spatial Sound technologies – plus convenient Bluetooth stereo audio streaming and iPhone/iPad remote control.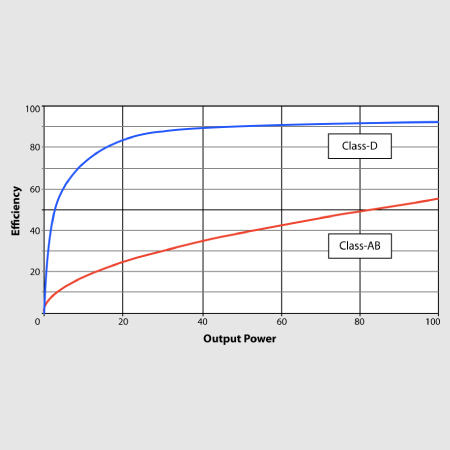 Tiny PA – 600 Watts of Perfect Sound
Designed for maximum portability, iP500's column sections and subwoofer fit neatly into their included carry bags, and setup is fast and easy; just attach the column section(s) to the base and connect your mic or mixer feed and power. Our revolutionary Class-D amplifier technology provides 600 Watts of incredible sonic performance in an easy-touse, ultra-portable and lightweight package. This amazing technology makes it possible to design and build extremely powerful products that are significantly lighter in weight than their traditional counterparts, while using less energy and protecting the environment. The lightweight Switch Mode Power Supply, coupled with an industry-leading DSP module, provides dynamic equalisation and sophisticated limiting functions to ensure optimal performance and long-term reliability. The powerful iP500 fills the room with the world-famous TURBOSOUND "sound" that has won the coveted Queen's Award – an unprecedented three times.
Outstanding Sound Dispersion
Much like the huge line array systems you've experienced at concerts and outdoor festivals (we make those too), the 2" neodymium midrange / extended high-frequency drivers in the iP500 columns are strategically placed to provide up to a 100° horizontal dispersion pattern. Such wide coverage eliminates the need for monitor wedges for the performers and creates a more even, sonically balanced soundscape that covers the entire room. By taking advantage of the arrival-time differential between sound waves reaching the left and right ears, iP500's groundbreaking Spatial Sound Technology (SST) creates a wide, well-defined virtual 3-D acoustic environment, enveloping the listener in a richer and more realistic experience. No matter where you sit, the location of the onstage voices and instruments are perceived in their rightful position within the soundscape, for a performance that is beautifully open and transparent – with unparalleled intelligibility.
Specification
System
Frequency response
- 65 Hz – 14 kHz ±3 dB
- 50 Hz – 16 kHz -10 dB

Nominal dispersion: 100° H @ -6 dB points
Maximum SPL: 118 dB
Crossover type: 2 way, active

Transducers
- 1 x 8" (208 mm) LF driver
- 6 x 2" (54.2 mm) HF drivers

Limiter: Independent HF, LF

Amplifier
Maximum output power*: 600 W

Type
- LF: Class-D
- HF: Class AB

Protection:  Short circuit, open circuit, thermal
Amplifier:  channels 2

Connectors
Input A / B: 2 x combo jack / XLR
Sensitivity: 4 dBu
Input impedance: 16 kO unbalanced, 33 kO balanced
Maximum input level: +22 dBu
Link output: XLR
Mains supply: IEC mains connector with integrated power switch

Controls
Hardware: Rotary push-encoder
Software: iOS interface via Bluetooth

User DSP Functions
Factory EQ presets: Positioning, sound mode
Display: LCD 128 x 32, blue, backlit
Equalisation: Bass, middle and treble
Protection: Lock-out function for all settings

Bluetooth Wireless Technology
Frequency range: 2402 MHz ~ 2480 MHz
Channel number: 79
Version: Bluetooth 4.0 dual mode
Output: 8 dBM
Compatibility: Supports A2DP 1.2 profi le
Maximum communication range: 30 m (without interference)
Connectivity: Master-slave: stereo pairing link

Power Supply
Power consumption: 80 W @ 1/8 max power
Voltage (fuses)

Enclosure
Dimensions: (H x W x D) 2006 x 321 x 400 mm (79.0 x12.6 x 15.7")
Base: 416 x 321 x 400 mm (16.4 x 12.6 x 15.7")
Tower: 918 x 132 x 72 mm(36.1 x 5.2 x 2.8")
Net weight: 15.1 kg (33.2 lbs)
Construction, base: Engineering plastic (GXPP)
Construction, tower: Engineering plastic (ABS)
Finish: Semi matt black paint
Grille: Powder coated perforated steel

Accessories
Protective cover (included)
Payment & Security
Your payment information is processed securely. We do not store credit card details nor have access to your credit card information.